Frederick Ferdinand Schafer (1839-1927)
A Preliminary Catalog of his Paintings
by Jerome H. Saltzer, Professor of Computer Science Emeritus
Massachusetts Institute of Technology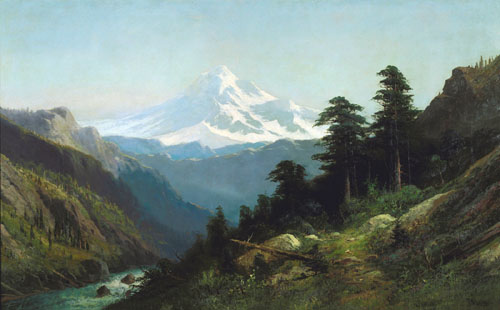 Frederick Ferdinand Schafer, Mount Hood from the Dalles, Oregon 44 x 72 inches
Photo credit: Braarud Fine Art, LaConner, Washington

---
Overview. This catalog is an ongoing inventory of the paintings of Frederick Ferdinand Schafer, a nineteenth-century landscape artist of what is sometimes called the San Francisco or Rocky Mountain school. Though Schafer was born in Germany, most of his known works were painted in America, in California and other far western states, between 1876 and 1911. Schafer apparently did not leave a list of his works, so this inventory has been constructed using information from collectors, dealers, auction houses, and museums. It documents about 800 of his paintings, in most cases including a reproduction. In addition it provides incomplete information about 150 other paintings by the artist, many of which are known only by a title that appeared in a nineteenth century exhibition listing or auction advertisement.
Contents:
The paintings.
The art history.
The inventory and this web site.
Search the catalog...
---
If you know of a painting by Schafer that is not in this catalog, have further information about paintings listed here, have information about Schafer, or have questions, please contact the author at:
| | |
| --- | --- |
| e-mail: | Saltzer@mit.edu |
| mail: | 2635 East Plateau Drive, Boise, Idaho 83712 |
| telephone: | +1 (208) 429-1192 |