Frederick Ferdinand Schafer Painting Catalog
3.4 & 3.5 Constructing the Art: On the Sizes and Number of Paintings
---
3.4 Painting Sizes and Media
Although he frequently depicted grand wilderness spectacles such as Yosemite Valley, Mount Hood, and Mount Shasta, in only a half dozen known paintings did Schafer use a canvas exceeding the 30 x 50 inch size that was apparently the custom for Mechanics Hall exhibitions at the time. The largest paintings reported are 42 x 70 inches; there are apparently no wall-sized paintings such as those sometimes painted by Bierstadt, Keith, and Hill, each of whom produced canvases of 70 x 100 inches or larger. A majority of Schafer's horizontally-oriented studio paintings are on a canvas of 30 x 50 inches, while the vertically-oriented works are usually on a canvas of 30 x 20 inches. There are also many smaller paintings ranging down to around 6 x 10 inches in size that appear to be field sketches, and two miniature watercolors, 3 x 5 inches, have emerged.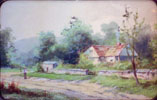 By far the majority of Schafer works are oil on canvas, though some of the small oils are done on canvas-covered artist's board (in addition, later conservators and restorers have laid some of the small canvases down on board). There are about a dozen watercolors and gouaches, generally on some kind of artist's board. Several of these are dated, and the dates are very late in Schafer's career: 1898 and later, though some of the undated watercolors seem to be German, which would place them at the beginning of his career. An undated example, [Farmer, farmhouse, and dirt road] is at the left and a list of these paintings may be found in the index of watercolor and gouache paintings.
---
3.5 On the number of paintings by Schafer
This inventory lists some 725 different titles, which have been found in sources ranging from auction lists of the 1880's to current dealer inventory. Of these, nearly 500 have been located and described; about 25 of those have attributions that can be questioned. The 225 unlocated titles include many for which virtually no information beyond the title is available; some of those paintings may already appear in the inventory under another title. On the other hand, since the primary market for Schafer's paintings was in San Francisco, some--perhaps many--of the unlocated paintings from nineteenth-century lists may have been lost in the fires that followed the 1906 San Francisco earthquake.
In the course of the search for additional titles, each batch of titles from a new source was compared with the inventory list already compiled. Initially, most titles found in new lists were not previously in the inventory, but as the search progressed, additional sources were found to include increasingly large fractions of titles previously identified. A statistical analysis of these fractions suggests that the current inventory probably contains around 80% of the paintings that have come to light in the last four decades. In addition, paintings by Schafer from previously unknown private collections are emerging at the rate of about eight to fifteen per year; from the reports that accompany such paintings they seem to appear after an average of two or three generations of family ownership. Taken together, these statistics suggest that the total number of paintings extant by Schafer is probably in the range between 750 and 1500.
---